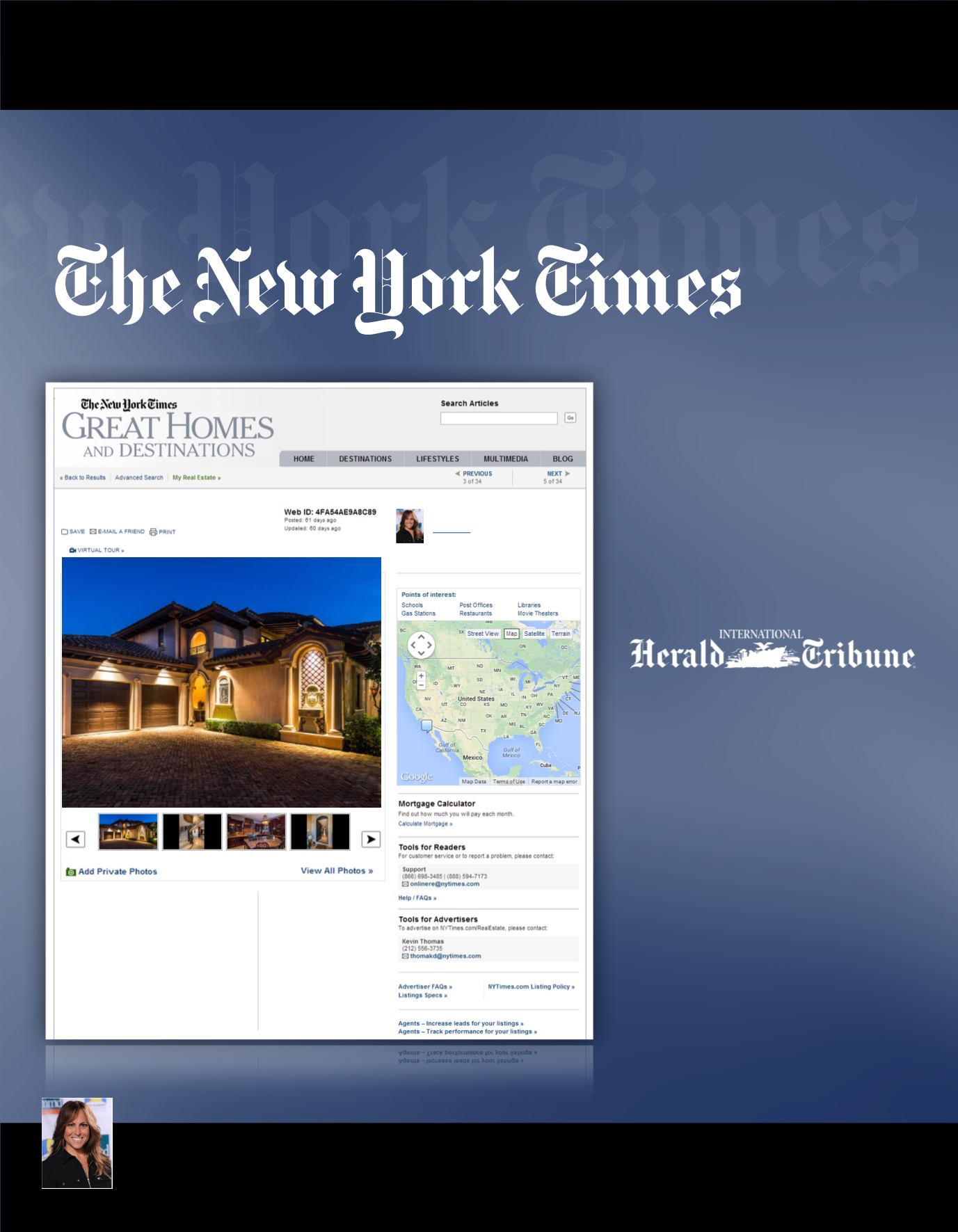 With over 25 million unique visitors
each month, NYTimes.com is the #1
individual newspaper site in the U.S.
Access and connect with award-winning
journalism—in articles, video, slide-
shows and multimedia features—and
become part of one of the most engaged,
loyal community of readers on the Web.
The International Herald Tribune is the
global edition of The New York Times
and provides a balanced, intelligent per-
spective on world news, business, cul-
ture, sport and more, making it required
reading for half a million influential,
sophisticated readers in 160 countries
around the world.
2300 Barcelona Drive
Fort Lauderdale, Florida 33301
Michelle Ross
954.835.5500
Email Agent
4 Bedrooms
4 Bathrooms
Half Baths
4757 Sq. Ft.
single-family home
MLS
2300 Barcelona Drive
Fort Lauderdale, Florida 33301
This magnificent custom built 4,757 sf Old World gem
features steel frame construction and superior design
down to the smallest detail throughout the property.
Offering 4 bedrooms, 4.5 baths, a two car garage
with elevator lifts, beautiful pool and 90'
of deepwater access just steps off the famed Las Olas
Boulevard. Cupola ceilings, a towering rotunda, hand
crafted iron work accents, and chiseled limestone
floors are just a few examples of this estate's
features.
MICHELLE ROSS | MMD REALTY/PRESTIGE ESTATE PROPERTIES | ###.###.###
PRESTIGE HOME MARKETING PLAN